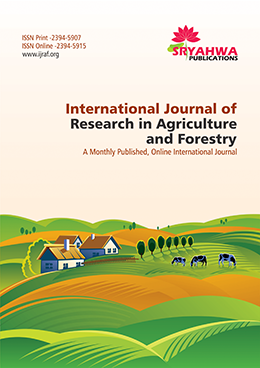 Aim and Scope
The International Journal of Research in Agriculture and Forestry (IJRAF) aims at bringing about a perfect blend of two important domains AGRICULTURE and FORESTRY through launching a new international journal. It publishes research articles, papers, reviews, letters, technical reports, case studies and all other communications in domains of Agriculture and Forestry. If Agriculture is a science of cultivating land, Forestry is a science and practice of planting, caring for and managing forests. Both Agriculture and Forestry constitute themselves into AGRO FORESTRY calling for more and more information to be provided by the contributions to be made by authors of diversity.
IJRAF covers the areas mentioned here under
Agricultural Engineering
Agricultural Genomics
Agronomy
Animal Science
Aquaculture
Cloning and Expression
Crop Science
Dairy Science
Ecology & Environment
Entomology
Environmental Impacts of Agriculture and Forestry
Fisheries
Forestry
Genetic and Plant Breeding
Horticulture
Hydrology
Irrigation
Marine Sciences
Medicinal Plants
Microbial and Molecular Genetics
Plant Biochemistry
Plant Biotechnology
Plant Genomics
Plant Molecular Biology
Plant Protection
Plant-microbe Interactions
Pesticidal science
Post Harvest Biology and Technology
Poultry Science
Rural Biodiversity
Seed Science Research
Soil & Fertilization
Soil Research and Rehabilitation
Soil Science
Stored Products Research
Tillage and Cultivation
Transcriptomics
Tree fruit production
Veterinary science
Virology
Viticulture
Water Resources Management
Weed Biology
Adding to this it will also take up any other branch within the gamut of Agriculture and Forestry.